Ordering, delivery & returns
Orders placed before 4pm are despatched the same day. All orders are processed within 1 working day & delivered within 1-2 working days.
Delivery  – UK 
For web orders postage is included for products up to 200 grams by Royal Mail 1st Class.  Postage is charged at current rate Royal Mail or courier should need your cover sooner.
Overseas
We are happy to deliver overseas, current postage/courrier rates would apply
Click HERE to download our shipping costs.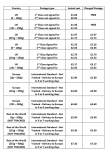 Returns
Please double check the size of. your limb before you order.  An unused BUDDY® in original condition returned to our office within 14 days after purchase will be refunded.
If you have a problem with your BUDDY® please contact us within 14 days of purchase and let us know how we can help.
Our covers are tested before they are posted. Please do not alter or use anything sharp on the material as we will not be able to issue a refund.