'We've got you covered'
 with a
BUDDY®
WATERPROOF
COVER
FOR LEGS AND ARMS
Keep wound dressings dry & diabetes sensors 
Also suitable for amputees
Our shower only cover are hand/foot free
Call us on free phone 0800 270 0074/5
BUDDY® covers are gentle, latex free & non restrictive 
They are 
submersible, soft & flexible & feel like a second skin
Re-usable up to 30 times 
Lightweight & portable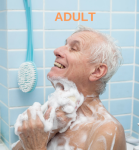 Packing to go on holiday is stressful enough without a last minute injury.  
We've got you covered in the shower & bath!  
We recommend long length products for swimming to give you that extra protection
Frequently Asked Questions
Lightweight, flexible & latex free covers. The medical grade material is not thick & heavy 
Fully submersible, the covers cling gently to your limb & feel like a second skin giving u  your fingers & toes flexibility
In cool water, the cover has a cooling effect 
The

 unique seal is gentle & non-restrictive
 CLICK OUR SHOP PAGE FOR THE FULL RANGE 
 PRODUCT PAGES HAVE SIZING GUIDANCE 
Freephone tel no: 0800 270 0074
LEGS:
FEET –  short leg (35 cm long) product which 

reaches 

 to mid-calf –

choose medium leg for swimming

BELOW KNEE 

medium leg (

56 cm long) –

choose long leg for swimming

ABOVE KNEE –

long leg  

100 cm long

 reaching to the thigh
For swimming always choose a longer product for extra protection.
ARMS:
Measure your limb circumference above your dressings around the fleshy part in centimetres, bear in mind anything over 27 cm we recommend a 40! (30 is very small)
For example:  You have measured your forearm to cover your fingers and hand as 30 centimetres, choose a short arm, medium aperture 40 – Code:  SA/M/40
You have measured your leg for a long leg to reach to your thigh, the circumference is 70 cm, order a long leg 90 = LL/L/90 which covers 70 to 90 cm circumference.
A 1 cm seal will form approximately 4 cm above your dressing

Releasing

 the air gently via the seal will allow the cover to 

cling like a second skin

Do not alter the product with scissors – the seal will not work
Click HOME –> Child or Baby