BUDDY® 
waterproof
limb
covers
We've got you covered
Free phone no 0800 270 0074/5
 Gently protect your
 wound dressings with a non restrictive, comfortable, latex free cover 

which

 is 
Submersible
Soft & flexible
Clings like a second skin when the air is removed
Easy to use up to 30 times 
Lightweight & portable
Shower

 with our hand and foot free cover
For swimming please use longer 

length covers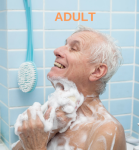 When you can pack to go on holiday it's stressful enough without a last minute injury.  
We've got you covered!  
You can still take a dip & shower or bath.  
We do recommend longer length products for swimming to give you that extra protection
Frequently Asked Questions
Lightweight, flexible & latex free, the material is not thick & heavy 
Fully submersible, the covers cling gently to your limb & feel like a second skin. You can feel your fingers & toes through the material
In cool water, the cover has a cooling effect taking the heat out 
The

 unique seal is gentle & non-restrictive
OUR SHOP PAGE SHOWS OUR RANGE OF PRODUCTS. LEGS, ARMS & AMPUTEES. CLICK ON THE RELEVANT PRODUCT AND THE SIZING GUIDES WILL BE DISPLAYED.
Call us on freephone 0800 270 0074
LEGS:
Toes

 & ankles –

 short leg (35 cm long) product which 

reaches 

 to mid-calf –

choose medium leg for swimming

To reach below the knee –

medium leg (

56 cm long) –

choose long leg for swimming

Above the knee –

long leg  

100 cm long

 reaching to the thigh
For swimming always choose a longer product for extra protection.
ARMS:
Fingers & hands 

–

 short arm 

35cm long reaches  to mid forearm choose medium arm for swimming

H

and and wrist –

 medium arm 

51cm long 

reaches below the elbow

A

bove elbow –  choose a

full arm
Measure your limb circumference around the fleshy part in centimetres, bear in mind anything over 27 cm we recommend need a 40! (30 is very small)
For example:  You have measured your forearm to cover your fingers and hand and it measures 30 centimetres, choose a short arm, medium aperture 40 – Code:  SA/M/40
You have measured your leg for a long leg to reach to your thigh, the circumference is 70 cm, order a long leg 90 = LL/L/90 which covers 70 to 90 cm circumference.
Measure carefully as directed around the circumference of the limb
A 1 cm seal will form approximately 4 cm above your dressing
Release the air via the seal & the cover will 

cling to your limb like a second skin

Do not alter the product with scissors
Click HOME –> Child or Baby